Printed by http://essen.city-map.de/city/db/040302011501/grillo-theatre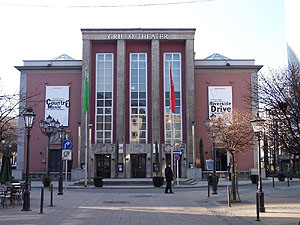 Image Copyright: wikipedia
The Grillo-Theatre is Essen's city theatre. It was built in the neo-classical style after plans by the Berlin architect Heinrich Seeling and carries the name of the industrialist Friedrich Grillo, who made the theatre construction possible. The theatre is one of the oldest in the Ruhr area. The opening took place on the 16th of September 1892 with a production of Gotthold Ephraim Lessing's 'Minna von Barnhelm'.
The theatre accommodates opera, dance and play but became soon too small for the fast increasing large city. In the twenties, further theatres followed. In 1927 the Folkwangschule and finally in 1988 the Aalto-Theater, which turned Essen into a cultural metropolis.
In 1932 'Der grüne Tisch' (The green table) by Kurt Jooss received the first prize at the international Choreography-Competition in Paris.
The building and its Wilhelminian facade were badly damaged during the 2nd World War. The theatre was restored and re-opened in 1950. The first production was Richard Wagner's opera 'The Mastersingers of Nuremberg'. The new face was kept simple.
Productions by Erwin Piscator, Jean-Louis Barrault and Heinz Dietrich Kenter increased the theatre's good reputation. From 1985 - 1992 Hansgünther Heyme was theatre director. His vehement engagement saved the building when the city planed to close the house down because of construction defects in 1988.
Picture Copyright : http://de.wikipedia.org/wiki/Bild:Essen_Grillo_Theater_Front_1_2005.jpg
Image Copyright: wikipedia
Rear of the Theatre
After extensive building alterations by architect Werner Ruhnau and a reduction of seats from 670to 400 a variable room theatre was created. The re-opening took place with the production of Shakespeare's Mid-Summer Night's Dream in September 1990.
Location
• Address: Schauspiel Essen im Grillo-Theater, Theaterplatz 10, 45128 Essen
• Public Transport: Essen, main railway station Essen or U-station Hirschlandplatz
Picture Copyright : http://de.wikipedia.org/wiki/Bild:Essen_Grillo_Theater_R%C3%BCckseite_1_2005.jpgThis article is based on the article fromhttp://de.wikipedia.org/wiki/Grillo-Theater the free Encyclopedia Wikipedia and is under http://de.wikipedia.org/wiki/GNU-Lizenz_f%C3%BCr_freie_Dokumentation . In Wikipedia isa http://de.wikipedia.org/w/index.php?title=Grillo-Theater&action=historyavailable.