Printed by http://essen.city-map.de/city/db/040302012101/the-neue-isenburg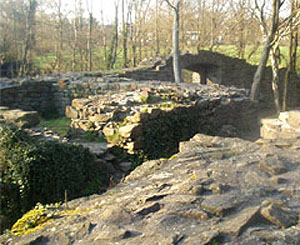 Image Copyright: wikipedia
The Neue Isenburg in Essen's south was built on the Bremberg above the Ruhr in Essen in1241/1242by EarlDietrich von Altena-Isenberg, the oldest son of Earl Friedrich von Isenberg (Master of the Isenburgnear Hattingen, destroyed in the year 1227). With this he wanted to assert his hereditary right to the protectorate (governship) over the abbeysEssen and Werden.
With a size of circa135times 45 metres it is one of the largest castle facilities in the region. The main castle forms an oval of roughly 45 times37 metres. The donjon (main tower) has a square layout of 8,75 metres side length.
First conquest of the facility in 1244 by the Cologne Archbishop Konrad von Hochstaden.
PictureCopyright : http://de.wikipedia.org/wiki/Bild:Essener_Isenburg_02.jpg
Image Copyright: wikipedia
On the 22nd February 1248 Earl Dietrich von Altena-Isenberg waived his rights to the'new' Isenburg and retired at his Limburgnear Hagen (today: Palace Hohenlimburg).
After a renewed conquest and destruction of the castle in the year 1288 by Earl Eberhard I von der Mark (he now exploits the weakness of the Cologne archbishopric after the battle of Worringen), the facility is not rebuilt.
An excavation and reconstruction of the present visible remnants took place between 1927and 1939.Picture Copyright : http://de.wikipedia.org/wiki/Bild:Neue_Isenburg01.jpgThis article is based on the article from http://de.wikipedia.org/wiki/Neue_Isenburg the free Encyclopedia Wikipedia and is under http://de.wikipedia.org/wiki/GNU-Lizenz_f%C3%BCr_freie_Dokumentation . In Wikipedia isa http://de.wikipedia.org/w/index.php?title=Neue_Isenburg&action=history available.