Printed by http://essen.city-map.de/city/db/040302012401/hugenpoet-palace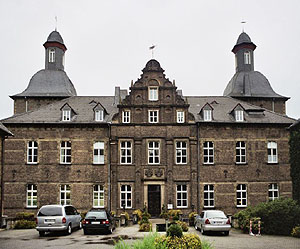 Image Copyright: wikipedia
Hugenpoet is first recorded as Charles the Great royal manor. Builder and owner were the lords von Nesselrode.
The facility was stormed in a feud in 1478 and burned down; but already in the year 1509 a new palace was built very near the ruin. But this building also got the raw deal in the thirty Year War.
Johann Wilhelm von Nesselrode-Hugenpoet demolished all ruins in the year1647 and - starting with the barbican - rebuilt in their place Palace Hugenpoet in its present form. The manor of the facility stems from the year 1696.
His heirs didn't have the financial means to keep the facility and so the, by now derelict manor, was purchased in an auction by Baron Leopold von Fürstenberg, who upgraded and modernised the place. The family von Fürstenberg even relocated its residence in 1879 fromBorbeck to Hugenpoet.
After the 2nd World War the palace buildings housed at times theexhibition of the Folkwang-Museum, before it was handed over in the year 1955 for its present usage a Hotel-Restaurant.Picture Copyright : http://de.wikipedia.org/wiki/Bild:Hugenpoet03.jpgThis article is based on the article from http://de.wikipedia.org/wiki/Schloss_Hugenpoet the free Encyclopedia Wikipedia and is under http://de.wikipedia.org/wiki/GNU-Lizenz_f%C3%BCr_freie_Dokumentation . In Wikipedia isa http://de.wikipedia.org/w/index.php?title=Schloss_Hugenpoet&action=history available.