Printed by http://essen.city-map.de/city/db/040302013001/the-vryburg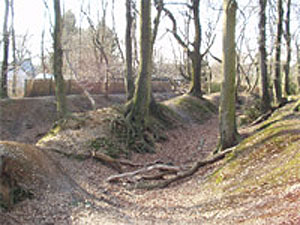 Image Copyright: wikipedia
The Vryburg, which is considered as on of the most important early medieval ring-rampart facilities of the Ruhr area, is situated at Essen-Horst.
The exact dating of the facility was until now not possible. But it is assumed after excavations in the year 1934 that it is a military strategically facility from late Carolingian times (9th/10th century). This excavation also revealed that entrance gates,made with Ruhr sandstone, were built in the north-east and north-west.
Picture Copyright : http://de.wikipedia.org/wiki/Bild:Vryburg_Bild_1.jpg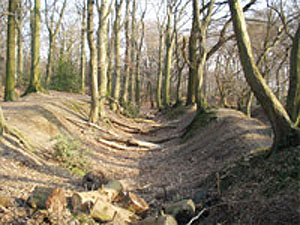 Image Copyright: wikipedia
The measurements of the nearly square facility are ca 100 x 100 metre. The facility is protected by V-shaped ditches and ramparts that are still visible today. Thefortification was probably done with a wood-soil wall or a wood palisade. There is double ditch in the north-east with an averagedepth of 2,50m. Remnants of the ditches that protected the south-east and south-west side are well preserved; only in north-west area are the ditches filled in but one can still recognise a depression in the terrain.
The Vryburg is situated immediately east of the house Horst. Presumptions that it is a forerunner of the house Horst, founded on documents since the 12th century, have not been confirmed.
Picture Copyright : http://de.wikipedia.org/wiki/Bild:Vryburg_Bild_2.jpgThis article is based on the article from http://de.wikipedia.org/wiki/Vryburg the free Encyclopedia Wikipedia and is under http://de.wikipedia.org/wiki/GNU-Lizenz_f%C3%BCr_freie_Dokumentation . In Wikipedia is ahttp://de.wikipedia.org/w/index.php?title=Vryburg&action=history available.