Printed by http://essen.city-map.de/city/db/040302014501/der-kultur-historische-verein-borbeck-e-v
Der Kultur-Historische Verein Borbeck e. V.
Image Copyright: KHV Essen Borbeck
The Kultur-Historische Verein Borbeck e. V.http://www.khv-borbeck.de

The reason for the founding of the Culture-Historical Borbeck was printed in the Borbecker Nachrichten on the 29th August 1982.

There one learned that a roughly 200 year old half-timbered building was to be pulled down.

Because of the then arising citizens' protests and the granting of monument characteristic by the Rheinische Amt für Denkmalpflege,

the city of Essen consented to refrain from the demolition, if a club could be found that would take responsibility for the preservation and care.

This was the reason why the club was founded on the 17th December 1984.


Image Copyright: KHV Essen Borbeck
It reached its target in the course of the following years:

The Steenkamp Hof built in 1786 was completely renovated in line with accepted conservation practise.

The club undertakes there since 1988 the action 'Animals on the Farm', which is very popular and every year many people, often families, come to visit.

Since there is a day of the European Monument, it falls onto the second Sunday in September.

This building is also used often for other events. In addition the Borbeck Imkerverein (beekeeper club) has there a teaching bee stand and the artists of the group 3+ have ateliers there.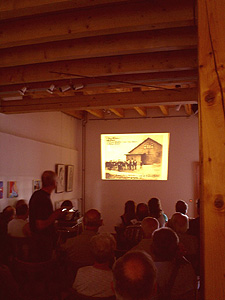 Image Copyright: KHV Essen Borbeck
But right from the beginning the club targets were more ambitious.

It engaged itself in general for the preservation of historical monument in the Borbeck area, organised lectures and excursions and published irregular calendars with Borbeck
themes, like churches half-timbered houses, restaurants.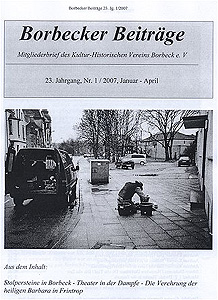 Image Copyright: KHV Essen Borbeck
The members' letter published since1985 made great progress and is now a magazine with diverse essays about Borbeck. It carries the title  'Borbecker Beiträge'.
Image Copyright: KHV Essen Borbeck
In 1999 the club published an essential book about 'Schloss Borbeck und sein Park'.