Printed by http://essen.city-map.de/city/db/040302014901/hesper-valley-train-in-essen
Hesper Valley Train in Essen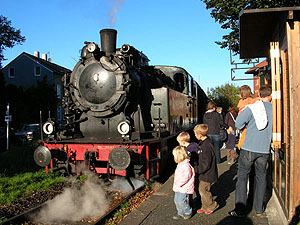 Image Copyright: Hespertalbahn e.V.
Venue
(no postal address, only approach):
Hespertalbahn e.V.
Prinz-Friedrich-Straße 1
45257 Essen

Organiser:
Hespertalbahn e.V.
Postfach 150 223
45242 Essen
Tel. + Fax: 0201.40 85 619
info@hespertalbahn.de
www.hespertalbahn.de
www.facebook.com/hespertalbahn
Image Copyright: Hespertalbahn e.V.
Description of the Hesper Valley Train:

Board the train and enjoy the trip along the Baldeney Lake in the historical railroad car of the Hesper Valley train. The museum train takes you from Essen-Kupferdreh to House Scheppen, a former Lehnshof of the abbey Werden.

At the present local recreation area hardly anyone can imagined that a pits, which gave hundreds of people work were operating standing here as well as a cement plant, which dyed the trees grey and steel was cooked in a smelter.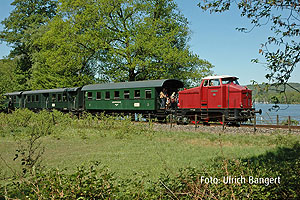 Image Copyright: Ulrich Bangert
Only the Hesper valley train has survived as a living monument of industrial history. Its origin as standard gauge railway with steam engine was in the year 1877. Apart from ore and chalk transport the train's main task was in coal and rubble transport. Since 1927 there was even a passenger train for the miners.

With the closure of the local pit Pörtingssiepen in 1973, the railway wasn't needed anymore. Two years later committed railway fans founded the association to rescue this industrial monument. Since then the present museum train from the Hespertalbahn e.V. is conserved and operates with steam and diesel locomotive.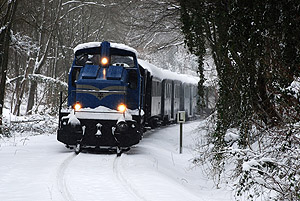 Image Copyright: Hespertalbahn e.V.
Visit the Hespertalbahn and experience old technique close up. The round trip takes around one hour. We are happy to take a break walk around the Baldeney Lake or explore the old pit terrain and you can take a later train back.
Operating days and current information is available at the Homepage
www.hespertalbahn.de



Current events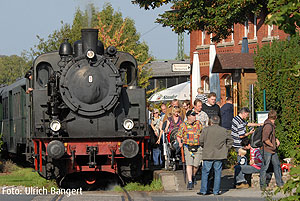 Image Copyright: Ulrich Bangert
No responsibility is accepted for accuracy of information!