Printed by http://essen.city-map.de/city/db/040302015201/coat-of-arms-of-the-altendorf-masters-
Coat-of-arms of the Altendorf masters
Image Copyright: Text: Dieter Bonnekamp - Heimat und Burgverein
The coat-of-arms

The coat-of arms of the Altendorf masters consisted of a red sign on which were three silver coloured twitches pictures. These are metal clips, which have spikes on the inside. With white strings one was able to lock the spikes in closed position.

Such clips were used during capturing wild horse in the past. The clips/twitches were pressed onto the wild horses' nostrils; the pain caused at such a very sensitive place made the wild horses submissive. Wild horses, which are still at home at the Merfelder Bruch, were then still spread over the Emscher region.

But of course that didn't mean the masters of Altendorf would have captured wild horses. Everything to do with horses were in the hand so of marshal of the princess-abbess. The masters of Altendorf were responsible as stewards for the Lady's kitchen and the Essen market.
More information under: Das Wappen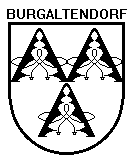 Image Copyright: Text: Dieter Bonnekamp - Heimat und Burgverein
Such coat-of-arms were held by a number of low noble families, which were in service of the Essen princess-abbess. They were stewards' coat-of-arms, awarded by the princess-abbess. The numbers and configurations of the twitches varied as well as the colour of such a sign.

Such coat-of-arms were also held for example by the masters of the house of Holtey in the Altendorfer Ruhr-valley, the house of Horst, of Eickenscheidt, of Schalke, by von der Leithe, of Carnap and so on...