Printed by http://essen.city-map.de/city/db/040302015801/cinemas-in-essen----film-theatre-eulenspiegel---film-studio-glueckauf
Cinemas in Essen - Film Theatre Eulenspiegel - Film Studio Glueckauf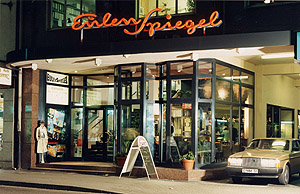 Image Copyright: Eulenspiegel Filmtheater
Eulenspiegel Filmtheater
Classic 50ties cinema with large screen, 70mm-6-canal-Stereo sound, Dolby SR, stage, Wurlitzer-silent movie organ, cinema museum and café
art film theatre and repertory cinema
400 seats
Steeler Str. 208-212
45138 Essen
Tel.: 0201 - 27 55 55
Programme announcement: 0201 - 77 84 77
info@essener-filmkunsttheater.de
www.essener-filmkunsttheater.de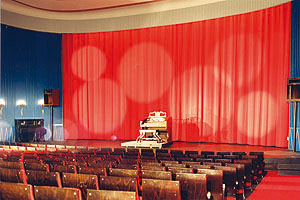 Image Copyright: Eulenspiegel Filmtheater
The listed Eulenspiegel, which opened in 1955 has been an art film theatre since 1980. With 400 seats it is one of the largest in the land. The Eulenspiegel has a 100 m screen, Dolby Surround sound and 70mm projection for real monumental cinema at its disposal.

As premiere cinema the Eulenspiegel presents also previews, special series, children's cinema and so on. In addition there are regular silent movies with live-music, dance events by independent choreographs and dancers as well as sporadic theatre productions, concerts and cabaret.

The cinema is being awarded regularly for its outstanding annual programme. Mondays is cinema day and every 3rd Monday in a month a sneak-preview takes place: One only gets to know the movie title when the curtain is lifted. Part of the Eulenspiegel is a popular café and a small cinema museum.
www.lichtburg-essen.de/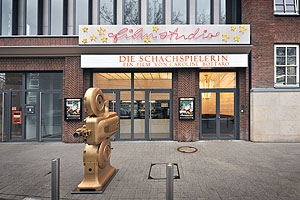 Image Copyright: Vinken
Filmstudio Glückauf
Classic 20ties-cinema with 50ties furnishings at the foyer (kidney-shaped tables, tulip lamps etc)
Art film theatre and repertory cinema
250 seats
Rüttenscheider Str. 2
45128 Essen
Tel.: 0201 - 439 366 33
Programme announcement: 0201 - 77 84 77
info@essener-filmkunsttheater.de
www.essener-filmkunsttheater.de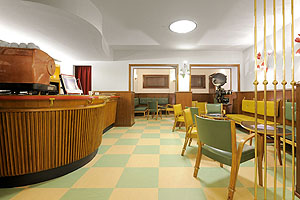 Image Copyright: Vinken
Film Studio

The oldest movie theare in NRW has had an eventful history since its opening in 1924: Not even 25 years old it was destroyed by a bomb, rebuilt, 2001 closed due to static problems, only to shine in old glamour after a dramatic rescue action at its second reopening in December 2009.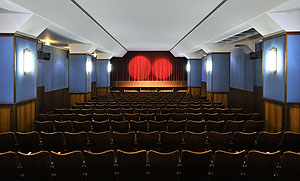 Image Copyright: Vinken
With its completely conserved hall from the 20ties and its nearly completely conserved interior of the 50ties the film studio at the Rüttenscheider Straße is a real jewel among Essen's cinemas. But not only the exterior set standards: The cinema programme has been awarded regularly since its opening.
And as if this wasn't enough sporadically special events with directors or musical stage productions in the hall take place. As at the Eulenspiegel there is reduced admission charge on Monday's cinema day.